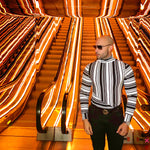 The LRC man is the guy you see from across the room who's confidence catches your attention before he even speaks . He's the guy that is known for his style and how clothes lay on his body.. He avoids "fast fashion " when it comes to putting together a look for an event, he'd much rather wear something thats different and fits well.
We Design for "that guy" !! 
LRC produces a limited amount of each garment  to insure our pieces remain exclusive. We pride ourself on catering to the metro sexual male who's all about style and unique textiles.
When you shop LRC you join a distinguished club of stylish men from all around the world !! Check out Fashion Influencer Jose Torres in our eye catching Eze turtleneck!
Thanks for checking out our new site!! To show our appreciation use coupon code LRCB19 at checkout to receive 15% off your purchase!!