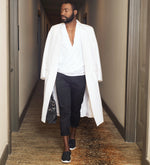 This months LRC style blog Highlight goes to Pierre Tagoua !! 
We asked Pierre a few questions in regards to his personal style and here's what he had to say !! 
IG Name: placidly_pierre
Age : 30
Currently living in Atlanta
LRC: So Pierre, how would you describe your personal style ?
Pierre: I  would describe my personal style as Urban chic.  I like to be comfortable in any outfit but also I like it to be very trendy but Im stubborn because I like to mix different unexpected styles.. It all depends on my mood. 
LRC: Nice, and what would are some of your fashion must haves!?
Pierre : Fashion must haves are a 3/4 pant a jacket and a nice pair of sneaker 
LRC: Why do you shop LRC ? 
Pierre: I shop LRC cause I like the way the clothes fit, material and for once I can be a man and dress without it being deja vu when I go out. As I said on my page.. LRC is a brand who makes men fashion less boring !
LRC: Wow we really appreciate your kinda remarks Pierre!! Our records show you are a frequent shopper, what would you say is your favorite LRC piece? 
Pierre:
My favorite LRC piece is the Michael button down !! 
 LRC: Popular seller !! Well Pierre we appreciate your loyalty to LRC and thank you for taking this time to allow us to get to know you a little better. 
Thanks for shopping LRC !!!