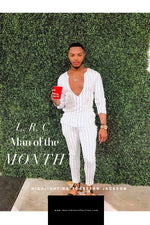 L R C Man of The Month Blog is Back !!! This is where we highlight customers who have consistently shop the brand throughout the season and exude what it means to be an L R C Man!! 
With over 12 pieces purchased we're highlighting one of our favorite customers Mr. Torreyan Jackson !! 
We asked Torreyan a few questions to get to know him better and here's what he had to say ;
Name : TJ Jackson
Ig name : torreyan.j
Age: 29
Currently living in : Dallas, TX
Tell us a little bit about yourself: I am just a guy living his best life and working towards his dream of owning a beauty bar.
How would you describe your personal style : My personal style is simply sexy. I really like to mix things together and wear it to my personal liking. I am not crazy about labels anymore like I used to be. I am more into what looks good no matter what the cost is. I use to try to mimic what my best friend used to wear, but I felt like I was being someone else. I wanted to be my own individual self. When that happened I was 100% confident in myself and 1000% sure I look good in what I am wearing because I am true to myself. 
What makes LRC different from other brands in your opinion : 
Honestly, I just feel like you can not find these pieces in stores or any other online website. Trust me, I have been through them all. LRC is definitely an eye catcher. I love the design of each piece and color. All of LRC are up to date with the latest styles and fashion.
Why do you shop with LRC ? I come to LRC because I know I will find that piece that's going to give me everything I need. 
What's your favorite LRC piece? OMG! I can't just pick one. I will narrow it down to two. I love the Tunis Pant Set because I was obsessed with the deep V-neck look. It gave me sexy because it was not showing too much skin but just enough.
My second choice would be the Lefes Short Set. LOVE THE COLOR, LOVE that it was set and LOVE the quality. I chose these two since they were from your latest collection and I love summer attire. 
We definitely see why these looks are your favorite!! We appreciate your loyalty to LRC thanks so much for shopping with us !!